Apple Monitor Is Being Piggy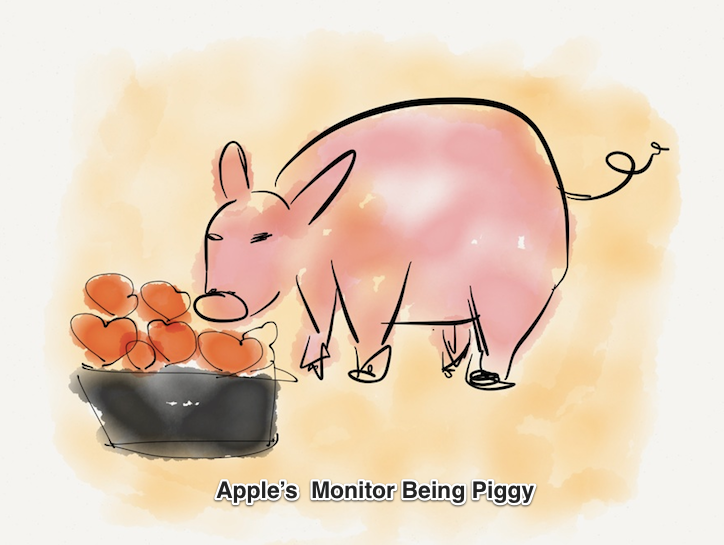 Apple's Court Monitor Is Overreaching and Improper
There is a reason that attorneys don't have the best perception among the public. They are sometimes accused of being greedy.
Well it seems that the attorney appointed by Judge Denise Cote of the United States District Court for the Southern District of New York is doing a number of things that are improper, including being piggy when it comes to his fees.
Over at the Apple 2.0 Blog on Fortune, the journalist Philip Elmer-Dewitt has a good article about how the monitor appointed by the court that found Apple violated antitrust laws is accused by Apple of overreaching and overcharging.
Apple makes various arguments in its legal brief, which you can see here. But one that sticks out is that the monitor, Michael Bromwich, wants to charge Apple $1,100 per hour for himself and $1,025 per hour for his support team, and 15% markup on top of that.
Bromwich, an attorney, is clearly being piggy. The appointment by the Court is a public appointment. Charging Apple over $1,000 per hour for his work appears to be completely out of line with what court appointed monitors charge. Apple points out that only a mere 5 months ago, Bromwich was acting as a monitor in another Department of Justice case and charging $495 per hour. Apple indicates in its brief that Bromwich told Apple that he needs to make a profit and that is why he is charging so much. So it looks like Bromwich is seeking to milk Apple because it has deep pockets.
What is more remarkable is that according to Apple, Bromwich hired an attorney from another law firm who charges $1,025 per hour because Bromwhich has no antitrust experience. So what makes little sense is that the court did not appoint a monitor who actually has antitrust experience as that is the violation that the monitor was appointed for.
This all should not be allowed by the court.